Donate
Count the Ways Campaign
Our community is in an ongoing campaign to raise money for a gymnasium, but it will be much more than a gym. Beyond giving our athletes a proper home for sports, the gymnasium will also function as a fine-arts facility with a stage for rehearsals and small performances. It will turn into a large cafeteria at lunch where we can also gather students for special assemblies. It will host professional development for our faculty, college fairs for our high-schoolers, and serve as a cost-free venue for certain community events.
That's why, if someone were to ask, "How will this gym benefit Great Hearts Irving?" We might reply with a famous line of poetry: let us count the ways. And if asked, "But how will the school finish raising the funds?" The same response could be given.
Let us count the ways.
Community Investment
Unlike traditional public schools, charter schools do not receive local taxes nor state funding for school facilities, resulting in large gaps in revenue between charter schools and local school districts. Your gift to Community Investment covers the gap between what we need to deliver the top-tier education that our children deserve and what we receive from public funding, helps us support our excellent and dedicated faculty, keeps our teacher to student ratio smaller for more individualized attention, and enables us to offer programs like art, music, and foreign language on a daily basis.
Floresco
Floresco, a Latin word meaning "I bloom," is an annual fundraiser event contributing toward the Count the Ways Campaign (the gym). This exciting party will be held on April 18 from 6:30-10:00 p.m. at the Embassy Suites. During the event, GHI faculty will entertain the audience with musical numbers, songs, and poetry readings. There will be a live and silent auction, delicious seated dinner, and dancing!
Count the Ways
Formerly known as the Captial Campaign, the Count the Ways Campaign will inform you on how to help us reach our goal of funding the gym.
Donate Now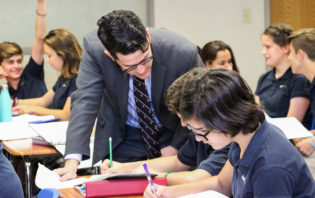 Community Investment
The Community Investment Campaign provides our faculty and students with the resources they need to learn and thrive.
Donate Now
Floresco
Floresco is an annual fundraiser event contributing toward the Count the Ways Campaign (the gym).
Donate Now