Thank you to all who joined us for our most recent Spirit Night at Shake Shack! Your participation raised $824.30 for our school!
Next Spirit Night at Spring Creek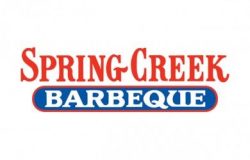 After a year on hold, we are glad to announce that our next Spirit Night will be on April 21, 2021 at Spring Creek BBQ in Irving!
Spring Creek has redesigned their Spirit nights program and has included the following changes. Spring Creek:
Will donate 20% of the total sales, not simply 20% of the sales brought by GHI community!
Will be open for in-store dining (5–9pm) as well as curbside pickup (5-8:30pm);
For to-go orders (curbside or in-store pickup), Spring Creek encourages each family to order at least 24 hours prior to the Spirit Night. This can be done via the Spring Creek BBQ app, online ordering, or call-in;
Recommends ordering their Family Pack if your group is of 3 or more. Family Packs are only available for to-go orders; and
Will be providing prize packages to the first 75 Spirit Night guests on a first come-first serve basis. Each prize package will include a "Spring Creek BBQ Tickles My Ribs" tee shirt, a logoed cup, a "sausage mascot" keychain, and a $10 gift card.
Upper School "Buck-a-Jeans" Event
To rally the school in the name of Goodness and celebrate Spirit Day this April, House Pericles is hosting a schoolwide fundraiser for the North Texas Winter Weather Crisis Relief Fund, starting 4/14! For a $2 contribution, Upper School students may wear jeans to school on our next Spirit Day, April 21! (Students are also encouraged to wear their spirit shirts to school, no donation necessary.)
If you donate and wear jeans, you may wear closed-toed, school-appropriate sneakers or shoes as well. All students must wear a dark leather (or equivalent) belt to school.
Buy a Buck-a-Jeans Pass at the table near the front doors 7:30-8:00am every day starting 4/14.
Students must purchase a $2 pass to wear jeans. If they wear jeans to school without a pass, they may purchase one before on the day of 4/21.
Ongoing Spirit Event at Our Place
Our Place Indian Cuisine is generously supporting Great Hearts Irving through the end of our school year! Anytime you, family, or friends dine in or carry out, simply put your receipt in the Great Hearts Irving box near the cashier to have 20% of your purchase donated to our school.
Spirit Shirts
Students are encouraged to show their Mustang pride by wearing a Spirit Shirt (or any Great Hearts Irving t-shirt) to school on the day of Spirit Night events.
We have a limited supply of our classic, red Mustang Spirit Shirts available to purchase for $10 at the front desk of the Lower School. Bring cash or check made out to Great Hearts Irving PSO. You can also pay via Venmo (@PSOGHI) or PayPal (pso@greatheartsirving.org).