Great Hearts' mission is to cultivate the minds and hearts of our students in the pursuit of truth, goodness, and beauty. One of the key ways by which Great Hearts seeks to acquaint our scholars with beauty in particular, and to encourage them to love it, is by immersing them in the beautiful at every turn—beautiful language, beautiful music, and beautiful images.
This year's Gallery Night is penciled in for the evening of Wednesday, April 5th, 2023. Mark your calendars, because this year's Gallery Night will feature student artwork, live musical performances, brand new, high-quality art prints available for sponsorship, and more.
Look for more information about Gallery Night as the date approaches.
For now, here are just a few of our beautiful pieces that will be available to view on Gallery Night: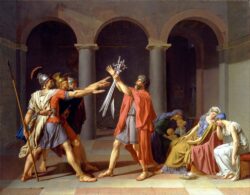 Jacques-Louis David's The Oath of the Horatii is a masterpiece of the Neo-Classical movement and memorializes the moment that the Horatius brothers vow to die rather than give up the defense of the nascent Roman Republic against the tyrannical Etruscan king Tarquin the Proud.
---
The Acropolis at Athens by Leo von Klenze portrays an idealized vision of the historic citadel of the Greek city-state. The Acropolis was the center of Athenian politics and civic life, which, given Athens' crucial historical and cultural influence, makes it also an icon of Western Civilization itself.
---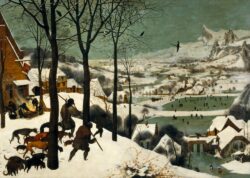 Pieter Bruegel the Elder's 1565 work The Hunters in the Snow, is an exemplar of the shift during the period now known as the Renaissance away from purely religious subjects and toward realistic depictions of everyday life.
---
Questions about Gallery Night? Please reach out to Thomas.Beyer@greatheartsirving.org.