Parent Evening
Great Hearts' mission is to cultivate the minds and hearts of our students in the pursuit of truth, goodness, and beauty. One of the key ways by which Great Hearts seeks to acquaint our scholars with beauty in particular, and to encourage them to love it, is by immersing them in the beautiful at every turn—beautiful language, beautiful music, and beautiful images.
To celebrate our sublime hallway art installations, as well as the care and diligence poured by our students into their own works of art, and to give our parent community an opportunity to experience the same beauty that our scholars do every day, we cordially invite parents to our second annual Gallery Night on Saturday, May 7, 2022.
Open House
This year, we are delighted to host our Gallery Night as a parent Open House from 6 to 8pm. This grown-ups-only evening will feature displays of our students' artwork that parents will be able to take home with them, live performances of classical music to ennoble the soul, and fellowship with other parents from our school community as well as teachers. No registration is required to attend the Open House portion of the evening.
Formal attire is encouraged (but not required) for Gallery Night attendees.
Private Tours
Prior to the Open House, we are also hosting a limited number of private tours of our beautiful, full-sized, framed prints of masterworks from the Western Tradition of visual art that decorate our hallways. Parents who attend will receive a one-of-a-kind "museum tour" with our very own teachers acting as docents.
Tours will be scheduled at 10-minute intervals between 4:30 and 5:30pm and are anticipated to take about an hour in total. When you purchase your admission, you will select a specific tour departure time. As these are only 10 minutes apart, it will be very important that you arrive for your tour on time. Tickets are $10 per person and will go on sale at 9am on Monday, April 11th. Following your tour, you will be invited to stay for the Open House.
Become a Sponsor
Last year, we offered parents the opportunity to become sponsors of the beautiful works of art that hang in our hallways. We were truly humbled by the response that we received, and those sponsorships are now included on permanent plaques next to the work of art as a lasting memorial to the generosity of this incredible school community.
There are several works throughout the building which have yet to be sponsored. If you may be interested in sponsoring one of these works in the amount of $100 on behalf of a student, a loved one, or just your family, you will have the opportunity at this year's Gallery Night as well. As before, sponsors will have their donation memorialized on the plaque for the work they sponsor. Please bring cash or check.
Here are just a few of our beautiful pieces that are still available for sponsorship: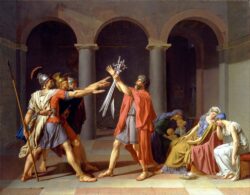 Jacques-Louis David's The Oath of the Horatii is a masterpiece of the Neo-Classical movement and memorializes the moment that the Horatius brothers vow to die rather than give up the defense of the nascent Roman Republic against the tyrannical Etruscan king Tarquin the Proud.
---
The Acropolis at Athens by Leo von Klenze portrays an idealized vision of the historic citadel of the Greek city-state. The Acropolis was the center of Athenian politics and civic life, which, given Athens' crucial historical and cultural influence, makes it also an icon of Western Civilization itself.
---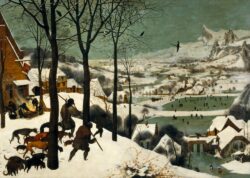 Pieter Bruegel the Elder's 1565 work The Hunters in the Snow, is an exemplar of the shift during the period now known as the Renaissance away from purely religious subjects and toward realistic depictions of everyday life.
---
Questions about Gallery Night? Please reach out to Thomas.Beyer@greatheartsirving.org.