Parent Evening & Reception
Great Hearts's mission is to cultivate the minds and hearts of our students in the pursuit of truth, goodness, and beauty. One of the key ways by which Great Hearts seeks to acquaint our scholars with beauty in particular, and to encourage them to love it, is by immersing them in the beautiful at every turn—beautiful language, beautiful music, and beautiful images.
Last year, in the midst of a pandemic, the Great Hearts Irving Lower School was able to acquire 79 full-size, high-quality, framed prints of beautiful, classical works of art that embody our school's wholehearted devotion to the pursuit of beauty in all things, and especially the visual arts.
To celebrate the installation of our new artwork and give our parent community an opportunity to experience the same beauty that our scholars do every day, we cordially invite parents to our first annual Gallery Night on May 1, 2021 from 5-8pm.
Tickets
To allow for as much social distancing as possible, Gallery Night will be not be open to children, and there are only a limited number of tickets available. Tickets are $10 per person and are available now.
The last day for ticket sales will be Sunday, April 25th, so be sure to reserve your guided tour today!
Purchase Gallery Night Tickets
Formal attire is encouraged.
Please note that, in accordance with Great Hearts Texas's Face Coverings Policy, all visitors will be required to wear a mask over their mouth and nose the entire time they are on campus. Visitors who are feeling ill or have had any symptoms associated with Covid-19 within 72 hours, such as fever (temperature of 100° F or higher), cough, loss of taste or smell, vomiting, diarrhea, etc. and anyone who has traveled out of the country within 14 days of the event must stay home. See Great Hearts Texas's Health Policy for more details.
Guided Tour
Parents who attend will receive a one-of-a-kind "museum tour" of our halls and artwork, with our very own teachers acting as docents. Tours will be scheduled at 10-minute intervals between 5 and 7pm and are anticipated to take about an hour in total. When you purchase your admission, you will select a specific tour departure time. As these are only 10 minutes apart, it will be very important that you arrive for your tour on time.
Tours will be limited to groups of 10 to allow for as much social distancing as possible.
Student Artwork
All parents who attend will be able to take home a work of art produced by their own student(s) in an archival frame.
Musical Performances
The evening will also feature live musical performances by our incredibly-talented teachers.
Become a Sponsor
Our inaugural Gallery Night will present a unique opportunity for families to become sponsors of our beautiful works of art. Your sponsorship in the amount of $100 of one or more works will enable us to purchase high-quality plaques featuring information on the work, including its title and artist. Sponsors will have their generosity memorialized on the plaque for the works they sponsor. Please bring cash or check.
Here are just a few of our beautiful pieces that will be available to sponsor: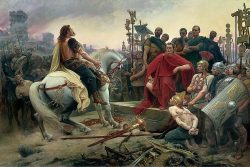 Lionel Royer's Vercingetorix Throws Down His Arms at the Feet of Julius Caesar memorializes both the Gallic chieftain's accomplishment in uniting his people against a common enemy as well as Caesar's in finally defeating Rome's ancient foe.
---
Jacques-Louis David's famous depiction of The Death of Socrates shows the founder of Western philosophy continuing to teach his students even as he is handed the cup of poison which will end his life.
---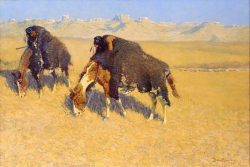 Frederic Remington's Indians Simulating Buffalo dramatically depicts the symbiotic relationship between many Native Americans of the Great Plains and the buffalo upon which they relied for their survival.
---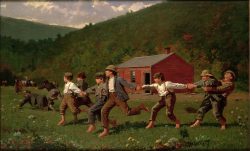 Winslow Homer's Snap the Whip was painted in the wake of the Civil War, embodying a time of both poignant nostalgia for the simplicity of agrarian life as well as a spirit of childlike hope for the future of our nation.
Questions about Gallery Night? Please reach out to Thomas.Beyer@greatheartsirving.org.