Parent Service Organization
The transformative education offered at Great Hearts Irving would not be possible without the generous and passionate commitment of our Parent Service Organization (PSO). As a parent and/or guardian, you have joined a community of like-minded families dedicated to the success of Great Hearts Irving and its students. We value your support and commitment to our community!
2020–2021 PSO Officers
Meet the Team
2020–2021 Room Parents
Lower School Room Parents
Holiday Giving
There are multiple ways we can celebrate and thank our wonderful teachers during this Holiday Season-from a verbal thank you or a heartfelt card to a small gift. Click the links below for a few giving events we have organized and invite your participation:
Volunteer Opportunities
We support the school in a wide range of ways. No matter what your talent or schedule, your help will make a difference. If you are interested in ways to volunteer and want to know more about the Parent Service Organization, please click on the button below or contact PSO@greatheartsirving.org.
Teacher TLC
Our amazing teachers are working incredibly hard to manage both distance and in-person learning and we really want to show our appreciation for them. Our Teacher TLC (Tender Loving Care) Committee covers the teacher lounges and teacher appreciation luncheons or events.  Items can be dropped off at the front desk, sent with your student, or delivered to campus. Thanks for your support!
What additional volunteer opportunities are available?
Athletics Support
Fall Festival Committee
Floresco Committee
Breakfast and Lunch Program
Passive Fundraising
Spirit Nights
Spirit Store
Teacher Appreciation Week
Yearbook
Dad's Club
Great Hearts Irving has recently formed a Dad's Club to facilitate fellowship, networking, and coordination among the fathers in the GHI community. If you are a father or guardian of a child attending GHI, please join us!
Connect with us!
Contact PSO@GreatHeartsIrving.org with any questions or comments.
Find our parent groups on Facebook:
Mustang Moms and Dads
Middle School Mustang Moms and Dads
High School Mustang Moms and Dads
All New Spirit Store!
The Great Hearts Irving PSO has partnered with Squad Locker to bring us a new and improved Spirit Store for 2020-2021. You can show your school pride while supporting our academy as Squad Locker gives 5% of your purchase price back to us as a donation. The Spirit Store this year has great variety including bags, accessories, hats, shirts, shorts, sweaters, pullovers plus much more.
Show Your Mustang Pride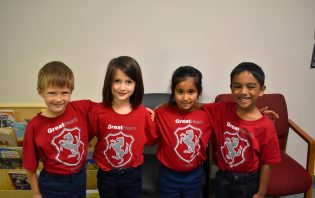 Spirit Nights
Spirit Nights are an opportunity for our community to show our Mustang pride and support our school.
Learn More