Upper School Attendance
The Upper School only receives funding for students who are present at 9:05 a.m. Our goal is 97% Average Daily Attendance (ADA), but any absence is lost funding. ADA is the percentage of days students attend school. If a student is absent more than 10 percent of the year, then he or she runs the risk of being retained or off track to graduate. The funding from ADA contributes to the campus operating budget. The higher the collective ADA, the more improvements can be made to campus.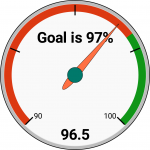 This week, the ADA is 96.51% and the potential revenue lost is $101,868. To help raise the percentage and funds for Great Hearts Irving, please consider the 9:05 a.m. attendance policy when scheduling appointments or keeping students home.
The Upper School is holding the first-ever ADA competition by House! Throughout Quarter 3, all Houses will compete for the highest Average Daily Attendance. The winning House will be awarded a pizza party at the start of Quarter 4! Updated percentages will be posted here and in The Week Ahead each week. Boudica has taken the lead! Pericles is now in second place with Vercingetorix dropping to third. Hannibal has made up a lot of ground in the last few weeks!
To inform the school of tardies or absences, please email the Upper School Registrar, Ms. Tamara Weatherton, at Tamara.Weatherton@GreatHeartsIrving.org.
Lower School Attendance
As a public school in the State of Texas, our funding is directly tied to student attendance. Every day a student is absent from 9:25 a.m. attendance is a day we miss out on funding.
We recognize that absences will undoubtedly happen. Children with fever, vomiting, or diarrhea should always be kept at home. Here are some simple ways you can help our school keep our Average Daily Attendance high and receive as much funding as possible:
Schedule all doctor appointments before or after 9:25 a.m. so that students can be
counted present for the day.'
Always bring a doctor's note for medical appointments or absences. They can be
brought to the front desk or emailed to attendance@greatheartsirving.org.
Keep students at home if they are contagious. Students should be fever-free for
24 hours without the use of fever-reducing drugs before returning to school.
Stay healthy! Prevent the spread of germs by reminding students to wash their hands frequently and cover their faces when they cough or sneeze.
All this is to say nothing of the extraordinary instruction our students miss out on when
they are not present. Our curriculum is quite rigorous, and every day is important for our
students' academic progress. Thank you for your constant support of our school community.