EduKits
Great Hearts Irving has once again partnered with EduKit to make school supply shopping as quick and easy as possible. EduKit orders include all the school supplies your child will need for the upcoming school year and are delivered right to your doorstop prior to the beginning of the school year.
Order by June 7th for the best pricing!
Order a Lower SChool (K-5th) EduKit
Last-minute EduKit orders will also be accepted from June 8th through June 21st for an additional fee.
Savings with EduKit
Because EduKit is able to order school supplies in bulk quantities, those savings over retail are able to be passed on to families. Here is a comparison of what the exact same supplies are estimated to cost at an online retailer versus ordering through EduKit: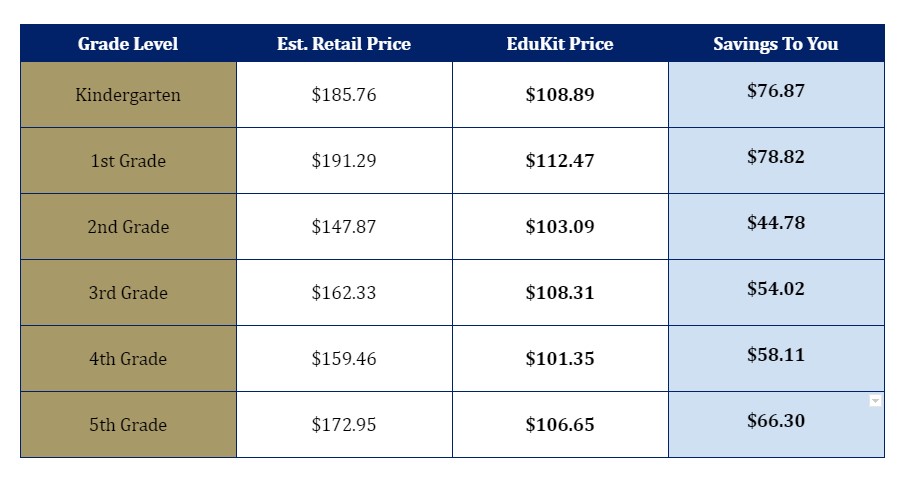 Lower School Supply Lists
Ordering through EduKit is quick, easy, and affordable. By ordering an EduKit, you're able to purchase all your child's supplies at a savings over retail and have them conveniently shipped right to your door. Should you rather shop on your own, a list of school supplies by grade level can be found below. Where indicated, please purchase supplies of the specified brand.
2023-2024 Kindergarten School Supply List
2023-2024 1st Grade School Supply List
2023-2024 2nd Grade School Supply List
2023-2024 3rd Grade School Supply List
2023-2024 4th Grade School Supply List
2023-2024 5th Grade School Supply List
Lower School Classics to Keep
It is the tradition of Great Hearts academies to inspire students to develop a personal library of literary classics they can keep, annotate, and return to throughout their lives. Therefore we encourage parents to purchase these "Classics to Keep" so that your student may graduate with an impressive library of literary masterpieces. Please do your best to acquire texts with the exact ISBN provided. This will ensure that the text aligns with our curriculum and that the entire class has books with the same features and page numbers.
As literary classics, many of the texts on our Classics to Keep lists have been made into one or more movies over the years and decades. Film is a fundamentally different medium; as a result, a film adaptation of a book always necessitates considerable differences. Having watched the movie adaptation of a text before reading it can color and diminish a students' initial experience of the book. We encourage families to consider waiting to show their children the movie versions of our Classics to Keep until after they have read the original books in school.
2023-2024 Lower School (K-5th) Classics to Keep LisT
Purchase Lower School Classics to Keep Online
The Lower School is delighted to once again be offering parents the opportunity to purchase your child's Classics to Keep directly from the school at a significant discount over retail. Simply complete your payment online, and we will deliver your child's books directly to their classroom as they are needed throughout the school year. When they're finished with the book, they'll take it home and it will be theirs to keep forever. 
Purchase Lower School Classics to KeEP Online
Lower School Classics to Keep on Audiobook
It is hard to overstate the value of children listening to beautiful books being read aloud dramatically. While we strongly recommend parents, grandparents, and even older siblings spend time with our students reading aloud to them, often the hustle and bustle of life gets in the way of this time. Audiobooks provide an easy way to provide students an opportunity to listen to fluent reading of English. Listening to audiobooks is valuable for all children of any age but can be particularly helpful to children learning English, children with dyslexia, or children who are struggling with reading generally. To help make finding the right audiobook easy, we have compiled links to available audiobook recordings of our Classics to Keep.