Stories are at the very core of what we do at Great Hearts Irving. While great stories certainly delight us, they offer much more than simple diversion. Stories teach us about the world: about the way things are, the people that live in it, and the consequences of the choices we make. Stories take the stuff of the everyday world we inhabit and imbue it with meaning, destiny, and transcendence, transforming our imaginations and making them able to see the True, the Good, and the Beautiful not just in the imaginary worlds of the stories, but in the real world they imitate.
On Friday, October 29, the Lower School will host our third annual Storybook Festival in celebration of our shared love of stories and the worlds of wonder and beauty to be found between the covers of a good book. Each grade level has a unique schedule of events planned, but we will all spend the day listening to, reading, and participating in activities drawn from some of the best children's stories.
October 29th is an early-release Friday; drop-off and pick-up will be unaffected by the Storybook Festival.
Help us grow our Library!
Last year for Storybook Festival, our families donated over 300 books to our school library. We were sincerely humbled by your generosity and devotion to helping us ensure we have plenty of beautiful, classical works of children's literature available to our teachers and students.
We are again inviting all students to bring a book to donate. It is of the utmost importance, however, that we offer our students only the highest quality books. To that end, we have carefully crafted an extensive Amazon Wish List containing titles we believe are truly worthy of our scholars' time and attention. Wherever you choose to purchase your books, please only donate books from this list.
Leave a Legacy
Our own Ms. Lucy Stariha (K-2nd Art Teacher) has designed this year's beautiful custom bookplate themed to The Hobbit. These bookplates can be inscribed with your child's name and placed on the inside cover of donated books as a lasting testament to the generosity and citizenship your family showed in helping us ensure we have a library full of beautiful books full of truth and virtue.
We will be sending one bookplate home in every student's folder. Additional bookplates may be picked up at the front desk.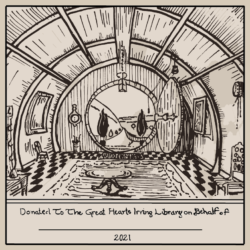 Costumes
For the Storybook Festival, students are allowed to come to school dressed as their favorite character from any of our list of Classics to Keep or from our Amazon Wish List. Since students will be wearing the costumes during the school day, there are a number of guidelines that we will ask you to follow. Click here for detailed instructions on what is and is not permissible to wear.
Hallway Decorations
We're hoping to once again decorate each of our grade-level hallways in our traditional literary themes and make the building magical for our students. We're looking for a team of 8 parent volunteers per grade level to take the theme and run with it! PSO will be able to support you and we have some supplies available at school (staplers, tape, butcher paper etc…) . Please sign up if you'd like to be on the team of decorators for your grade level.
Sign Up to Help Decorate the Halls
Little Sibling Story Corner
Update: Little Sibling Story Corner has sold out. Thanks to all who registered! We wish we had room for everyone and apologize to those who weren't able to reserve a spot.
Calling 3- and 4-year-old siblings! As part of our third annual school-wide Storybook Festival, younger brothers and sisters of current scholars are invited to school for a story hour just their own hosted by our Dean of Academics, Mary Pantin. Special storybook read aloud and more await. Space is limited for this exclusive event, so act quickly. We hope to see you there!
Food Permission Slips
During the day, our  classrooms will be visited by a special guest and served a themed snack. Be looking for a food permission slip to sign and return so that your child can participate. We understand that things like this sometimes get lost on the way home, so you can also download and print from the links below.
Kindergarten food permission slip
1st grade food permission slip
2nd Grade food permission slip
3rd Grade food permission slip
4th Grade food permission slip