Field Day 2022
At Great Hearts Irving, we believe that a holistic and humane education is one that seeks to cultivate health and strength not only in the mind and heart, but also in the body. Upper School Field Day is scheduled for Friday, April 8th.
Please note: April 8th is an early-release Friday. Lunch and student pick-up will not be affected by Field Day activities.
Volunteers Needed
Field Day is a special day for our students, and we will need A LOT of help to ensure everything runs smoothly. We encourage you to signup to help run one of our many Field Day games, to serve as a nurse's assistant, and more.
Field Day Shirts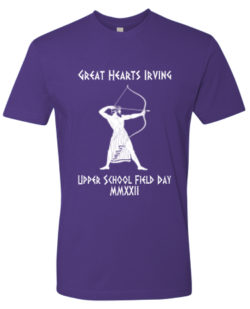 If you ordered your scholar a Field Day Shirt, it will be delivered to your child's classroom prior to Field Day. Parent volunteer shirts will also be delivered to your scholar.
Field Day Attire Guidelines
Due to the athletic nature of Field Day, students are encouraged to wear clothing more appropriate to the day in addition to their Field Day shirt, or any other House or Great Hearts shirt. Please follow these guidelines in choosing what to wear for Field Day on April 8th.
Special Field Day
Lunch Menu
While hot lunch will be available to students who need it, we strongly encourage all students to bring a sack lunch or cash to order Chick-fil-A, pizza, and popsicles on Field Day.
Chick-fil-A Sandwich
—$5
  Dominos Pizza Slice
—$2
Ice cream Popsicle
—$5
(Strawberry Lemonade, Blood Orange, Chocolate, Vanilla Bean, Watermelon)
Water Bottles
Field Day is a day of fun, but rigorous, physical activity! We will have water stations set up outside, but students should be sure to bring water bottles with them to school so that they have convenient access to water whenever they need it.